remixied
ON HIATUS
half the damn time, idek
INDEFINITELY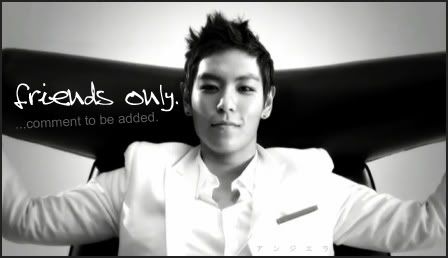 now we don't mess around / you see me with my crew
you love how we get down
you wanna do it too
we make a perfect team / and boy you know it's true
so if you're wondering / here's what we gonna do:
under construction
name:

remixied
age: somewhere between Taemin and Eeteuk
biases: in no particular order; kangin, shindong, yesung, zhou mi, tiffany, g dragon, cl, luna, zico and that one kid with the douchey smile, jia, minho, onew, still wanna lick taemin all over idec, eli, iu etc.
bands I'm mostly kind of aware of: super junior (kry+h+t+m+whatever the fuck they come up with next), shinee, big bang, 2ne1, f(x), 2pm, m.i.c., dbsk, b2st, f.cuz, b1a4, block b, boyfriend, snsd, secret, beg, fahrenheit, flowers, ft island, infinite, mblaq, miss a, s.h.e., u-kiss, z:ea, cn blue, etc.
otps:
I basically ship everything. stick a wood carving or kitchen appliance next to a band member and I'll find a way to make it work. that being said, I have an extra soft spot for minwook, kyuteuk, cinhae, kihae, kangmin, kangchul
basically anything I find myself unable to write...,
elvin, cl/minzy, cl/g dragon, etc.
twitter:
formspring:
lastfm:
Hey guys. I assume you know me/what I get up to if you've found your way here.
I'm pretty sure I'm friendly. And if I'm not, then... well... we'll just say that's part of my charm.
If you're friending for fic,
don't bother
. There's only old stuff here. Everything can now be found at my shared fanfiction community,
SUPER JUNIOR SHIPPING CO.
(to clarify, this should probably read more like-- if you're here because you like my fic, well that's real sweet, but you're shit out of luck. I am quite obviously not my fic, and 'me' is pretty much the only thing you're gonna find in here. So if you're interested in fic head to

sj_shippingco
, and if you're interested in me
lol really? me?
, then feel free to stick around.)
So from there, comment to be considered, everything's screened. My friending policy is pretty much as follows:
-
no silent friending (it's common courtesy to comment first, js)
-
no Only 13
-
don't spew member-hate all over my flist because I could really give a fuckBOTTOM LINE: I WILL ONLY ADD YOU BACK IF WE'VE COMMENT TRAINED AT THE ABSOLUTE LEAST. OTHER THAN THAT, SORRY, NO DICE. ALSO, SINCE APPARENTLY THIS BEARS REPEATING, THIS IS NOT A FIC JOURNAL.
So in the meantime, introduce yourself and
talk to me
. I wanna get to know about y'all, too!
And I promise not to bite- unless that's what you're into.
(banner cred:

angelalpev
)